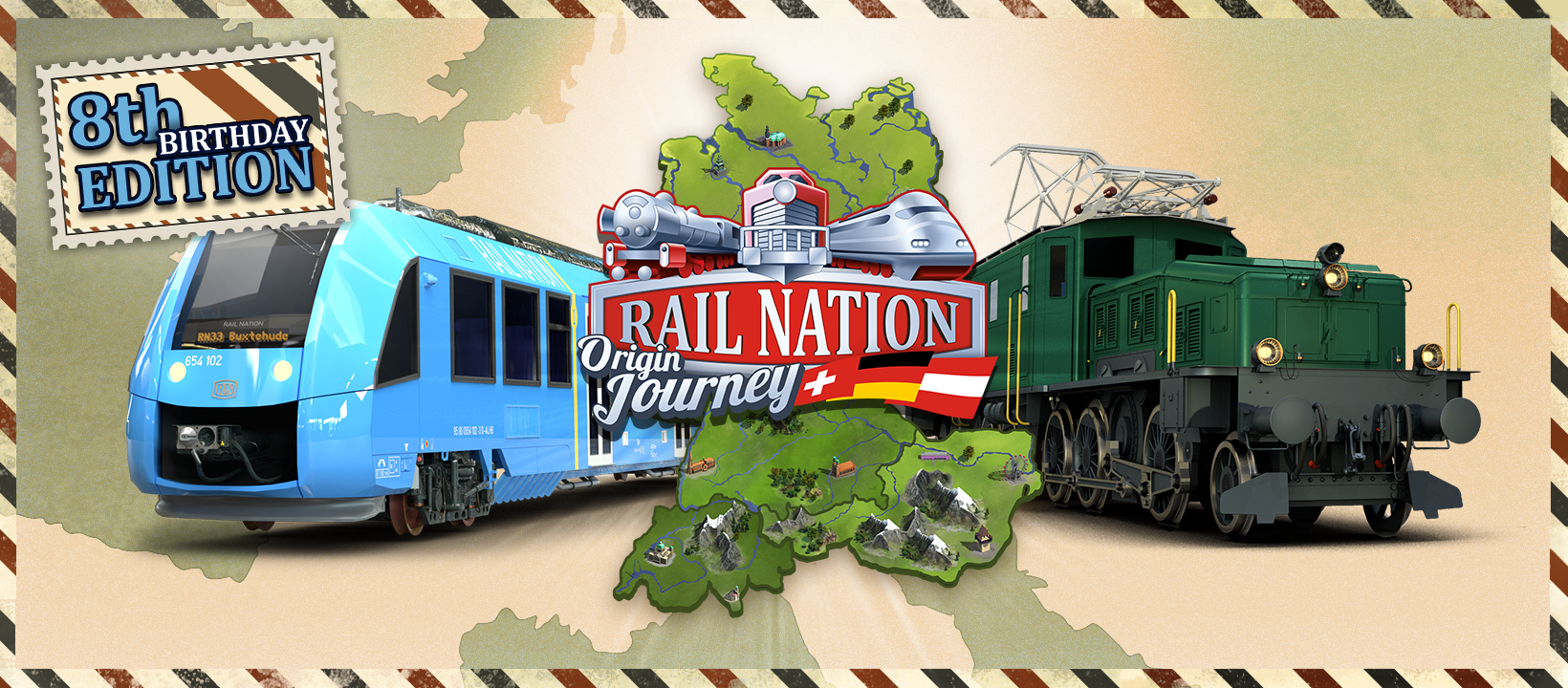 Dear Players,
It's been 8 years since the first round of Rail Nation was launched, and it's been captivating railroad tycoons around the world ever since. Celebrate the 8th birthday with us and join Rail Nation on a journey back to its origins.
We have travelled so far from our origins in 2012, adapting and evolving to the growing community and game demands. From our physical boxed game launch in 2012 to the start of our scenario's in 2014, Rail Nation has seen a lot of graphical evolution. In 2015 Rail Nation was released on Mobile, which saw an increase in new players discovering the game. By 2016 we were developing new ways to enhance the players experience and so we introduced the career mechanic which later, in 2017, saw the introduction of the career engine. 2018 is when one of our most loved features was introduced, the tech tree. We also started our first Rail Nation tournament with the introduction of Masters. The winter event was also first updated in 2018.
The powerful Primus engine first made an appearance in 2019 and has been a success within the community to this day.
Finally we come to 2020 and what a challenging year it has been. We have come face to face with a pandemic which caused huge changes in our daily lives. Knowing so many of you were stuck indoors, we started the "Take Care" campaign as a way to help spread safe practices and give encouragement to those in lockdown. Our first Fast Forward servers also made their debut in 2020.
Also in 2020 we implemented the HTML 5 transition as we said goodbye to Flash Player. We also hosted our first Platform X servers to give the community a to provide alternative gameplay option.
After such a busy 8 years, now is the time to celebrate!
Here is what we have lined up for this years birthday celebration
Community Conductor Trophy 
It's time to recognise our incredible community members. Starting this year, we'll be introducing the fantastic "Community Conductor Trophy". Each Birthday event a beautiful new trophy will be announced and every month of that year a valued member of the community will be selected to be a "Community Conductor" and have their name engraved on the trophy. Community Conductors will be selected based on community events we host or exceptional contributions within the community.
At the end of the 12 months, the Community Conductor with the most contributions to the community that year, will become that years "Community Conductor of the year" and the trophy will then be sent to that person to keep forever and display at home. Exact details of the trophy are yet to be finalised, but we'll keep you informed.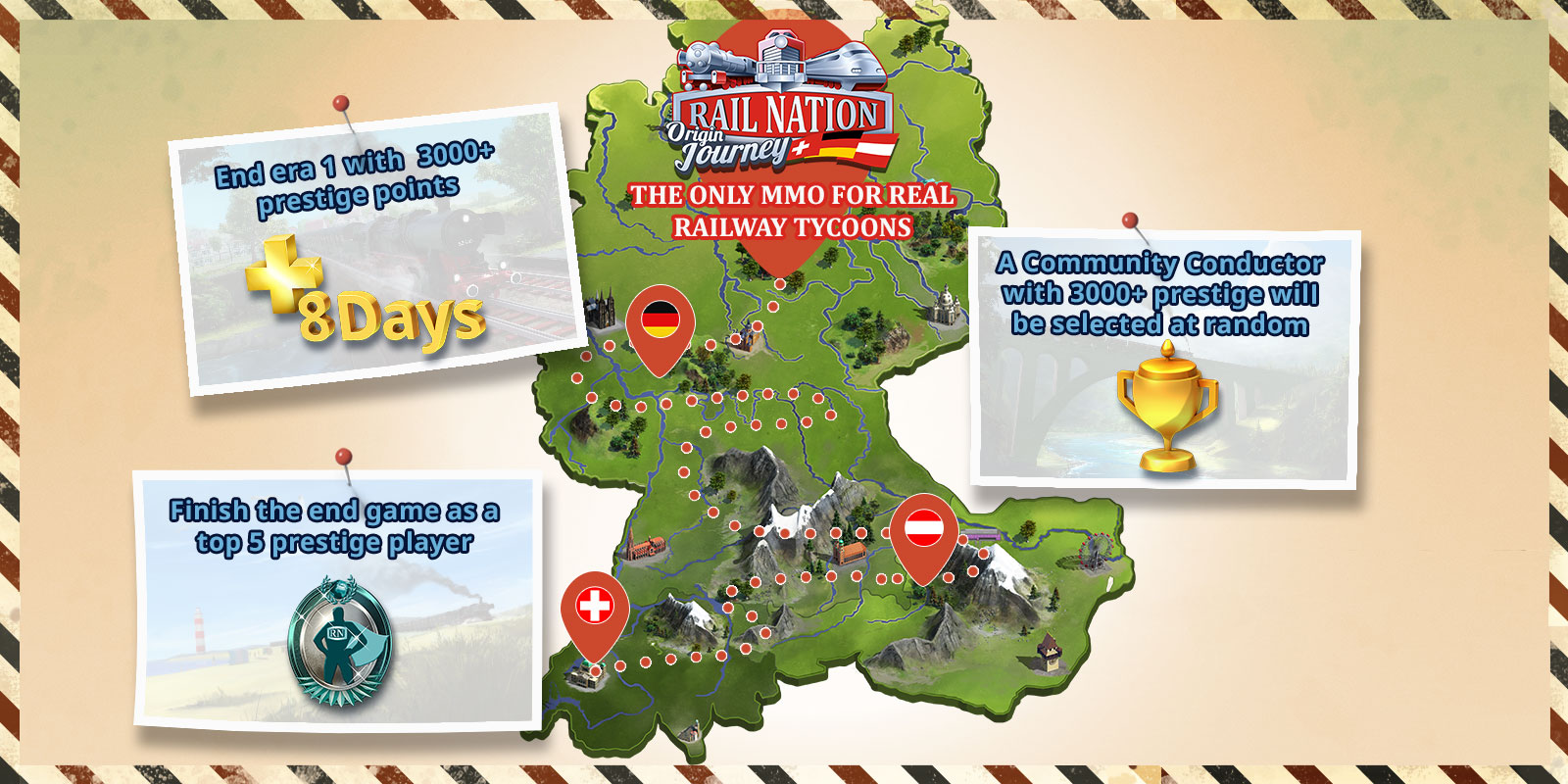 Prestige Party
We're returning to our homeland to kick off an event round of Rail Nation – Origin Journey: 8th Birthday Edition. 50 cities, 3 countries, 1 map! From Hamburg to Zurich, from the North Sea to the Alps. Every Origin Journey: 8th Birthday Edition player is automatically entered into our Prestige Party event for a chance to win great prizes. Everyone who earns at least 3,000 prestige on an Origin Journey server in the first era will receive 8 days of Plus Account! In addition, we will randomly draw a Community Conductor whose name will be the first to be engraved on our new Community Conductor Trophy.
As the third prize level of the Prestige Party, we will award the top 5 players of each game world of Origin Journey: 8th Birthday Edition with the achievement "Silver Community Hero" which comes with at least 100 career points.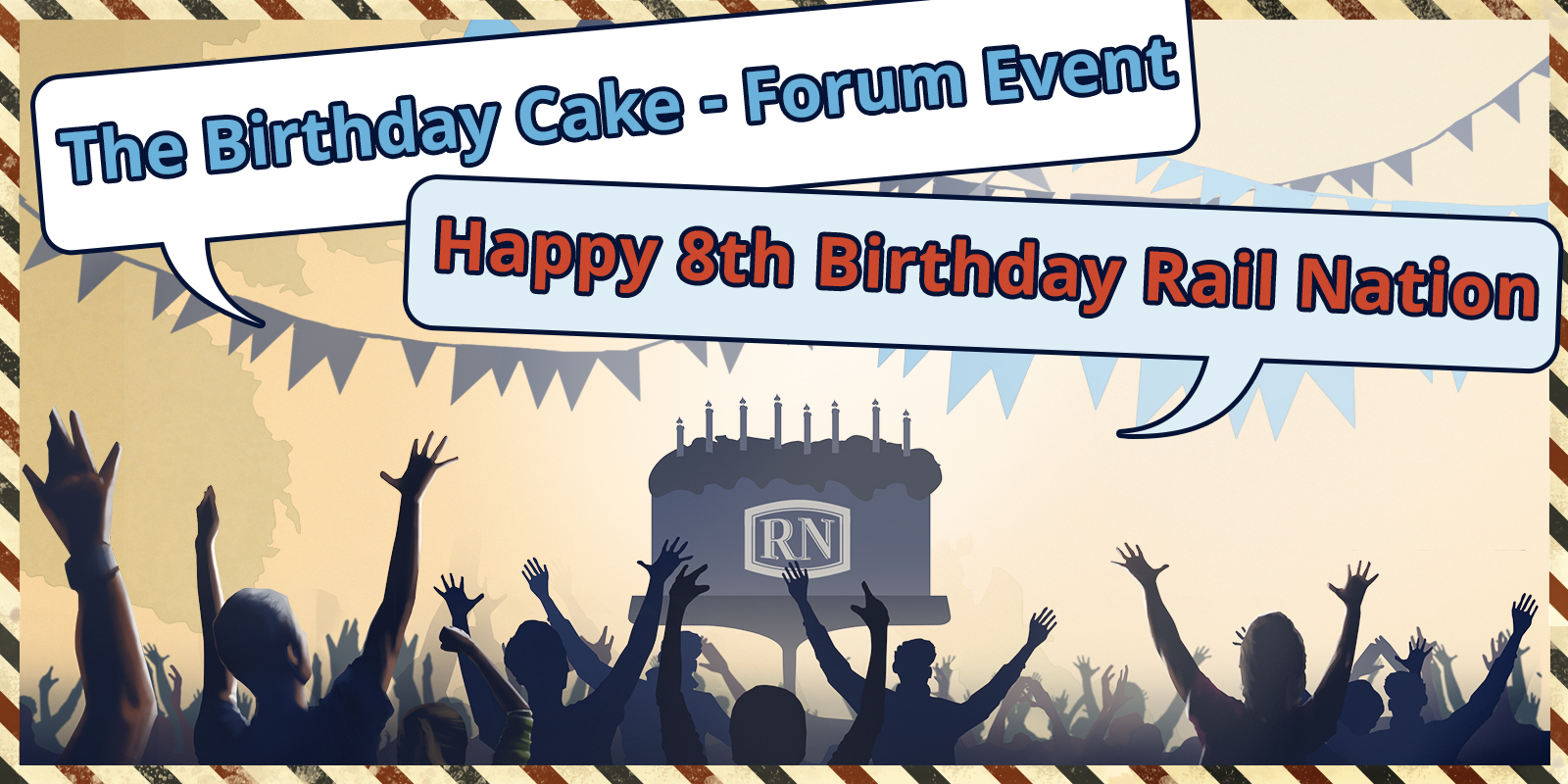 Community Baking Competition
Its not a birthday party, without cake! On the 20th of January we started a community "bake off" to see which of our community members can bake the best Rail Nation themed birthday cake. 1st place winners will get 300 Gold, 2nd and 3rd place will get 200 Gold! The competition runs until the 1st of February so there's still time to get baking. For more information visit the Rail Nation Forum
Lets start 2021 off in the right way, join the party and start your Origin Journey experience now!
FAQ
When will I get my rewards? – The 8 days of account plus will be issued within 8 working days of era 1 ending. The silver community hero award will be issued within 8 working days of end game is completion.
When can we see the Community Trophy? – Once the details have been finalised we will share more information about the trophy and how you can earn your spot upon it
How long does the Prestige Party event run? – From 28th of January until the end of your Origin Journey server end game
How long does the Baking Competition run? – From the 20th of January until the 1st of February