Railroad attraction
Become a railroad entrepreneur and build your own empire.
Continuously research new engines and feel the attraction of ever-advancing technologies - steam, diesel, electric.
Extend your railroad system and open up the most lucrative routes.
Rail Nation – Full steam ahead
Railway attraction – Millions of fans worldwide devote their spare time to the fascination and enjoyment of tracks, locomotives and routing. Popular board games, computer games and even TV series revolve around railways – however, until now, no contemporary online game has managed to fascinate its audience.
In Rail Nation, all interested strategy gamers and railway fans are given the chance to start up their own railway company, manage transports on a daily basis and to team up with associations in order to finally become the victorious single player or group of players.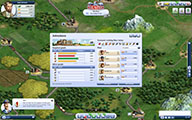 Since being on the move constantly is key in the railway business, a dynamic territory map including 3D train models is at the centre of the game. It is crucial for every digital railway tycoon to increase their own personal prestige and wealth and also that of their association in direct competition with rival associations. The calculation of train routes and goods prices occur in real time. Efficient schedules for the transport of a total of 48 different goods have to planned and maintained. Growing profits will allow players to develop their train fleet consisting of 36 different steam, diesel and electric engines and 48 different kinds of waggons.
Over the course of the game, goods can be transported to an ever-growing number of cities and players can enter transport competitions and let their trains race against those of others. Exclusive licences allow for additional revenue. Targeted deliveries to cities can also have a lasting effect on their development.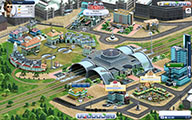 Never neglect the infrastructure of your own train station. Through the option to form associations, Rail Nation emphasises cooperation between friends, fellow players and possibly even rivals. Together, for example, important workers can be signed on in the game. In total, thousands of different players are competing with and against each other on the server.
With its easy-to-use controls and a comprehensive tutorial, Rail Nation allows for an smooth entry into the game, without compromising on advanced options for strategists. A game round is scheduled to last between 3 – 4 months. It consists of six consecutive railway eras followed by an endgame, in which all players compete with their grown railway companies against each other in the ultimate battle.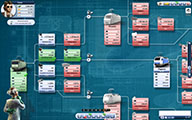 Rail Nation can be played for free in all common browsers. For just a couple of Dollars a month, premium users will be able to benefit from a number of different amenities, allowing them to make their engines even more efficient.
Rail Nation facts
| | |
| --- | --- |
| Publisher: | Travian Games GmbH |
| Developer: | Bright Future GmbH |
| Type: | Free browser game, requires Flash |
| Genre: | Railway strategy |
| Online since: | Open beta since January 2013 |
Game data
113 engine upgrades
50 cities per map
1708 industries per map
Approx. 500 avatar graphics

11 station buildings with 294 level upgrades
120 workers
25 players per association